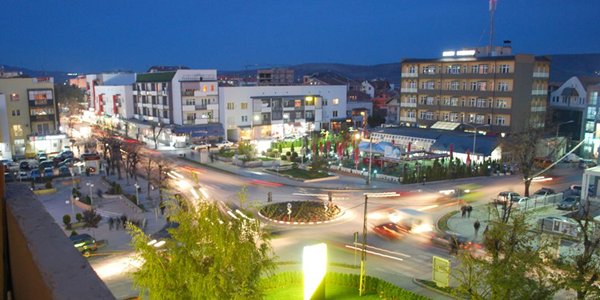 General Information
"Kadri Zeka" University
University "Kadri Zeka", is located in Zija Shemsiu street, n.n, 60,000 Gjilan, Republic of Kosovo.
The building has two entries, which are marked and named as Entry A and Entry B. At Entry A is located the Rectorate, Dean's offices, University Administration, the library, professors' offices, regular assistant's offices and other learning spaces; while in enry B is located a part of administration ( student service, IT office, finance office etc.),  professors' offices, regular assistant's offices and other learning spaces.
The official telephone number of the University is: (0280) 390 112.
The city of Gjilan
The municipality of Gjilan is located in the southeastern part of Kosovo, the Anamorava region.
It is one of the country's largest municipalities. Its geographic position makes it possible to make good connections with other centers of Kosovo and the region.
Gjilan is 46km far from Pristina ( the capital of Kosovo), 60 km from International Airport,  27 km from Kamenica, 22 km from Vitina, and 25 km from Artana.
The city is bordered with Presevo (33km) and Kumanovo (53km) in southeast, while with Bujanovac (40 km) in east.
Gjilan has a moderate continental climate, with hot summers and cold winters. The average January temperature is -0.9 degrees Celsius, while the average July temperature is 21.5 degrees. In autumn, rains fall, on average 177 mm, and in summer – 129 mm. The amount of rainfall in spring is 145 mm and in winter – 130 mm.
The emergency number of the Regional Alert and Coordination Center is 112.
The Cultural Institutions of Gjilan are:
City Theater
Museum of the City
City Library
Libraries in the Villages
Gallery of the City
Accommodation
The city of Gjilan has a small student center that meets the minimum requirements. Gjilan is also rich with a considerable number of hotels which provide adequate accommodation.
Transport in Gjilan
The city of Gjilan does not offer local public transport. All transport services are provided through private bus and taxi companies. Find below the contacts of some transport companies:
Bus Station:           tel: +381 (0) 280 323 482 & +377 (0) 45 518 660
Taxi "Shaqa":         tel: 08000 1000 (toll free)
Taxi "Luli":                tel: 0800 66 666 (toll free)